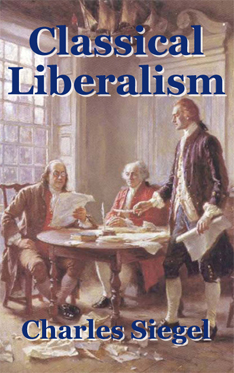 Last ned Siegels bok her
Les artikkelen jeg har kommentert til
her
.
Mitt tilsvar:
Ja, jeg tror bestemt at Charles Siegel har en annen definisjon av klassisk liberalisme, kanskje til og med en definisjon som utelukker kapitalismen, med kapitalisme sett på som akkumulasjon av kapital. For noen år siden skrev jeg en artikkel med tittelen "Anti-Pattern Capitalism":
http://permaculturenews.org/2010/11/25/anti-pattern-capitalism/
Den gangen forstod jeg ikke at kjernen i kapitalismen er akkumulasjon, jeg mente derfor at man også kunne ha en "mønstret" kapitalisme, noe jeg nå ser blir en selvmotsigelse. Det jeg nok mente var at man kan ha en konkurranse, hvor profittmotivet er inkludert, men at den økonomiske aktiviteten begrenses av "mønstre" eller mer korrekt "pattern languages". Disse gjør seg gjeldende særlig gjennom den fysiske strukturen, som det Alexandrinske "Pattern 87, INDIVIDUALLY OWNED SHOPS."
I høst hadde jeg en artikkel hos Resilience som beskriver mine tanker om dette mønsteret, med tittelen "The Ancient Taberna in a Future World", denne kan leses her:
http://www.resilience.org/stories/2013-09-17/the-ancient-taberna-in-a-future-world
En slik tankegang vil selvsagt fortone seg som hårreisende for tilhengerne av dagens neoliberale økonomiske virkelighet. Men ved bruk av avanserte mønsterspråk som begrenser kapitalakkumulasjonen og sørger for at verdiene og verdiskapningen i størst mulig grad blir i lokalmiljøet, hvor borgerne organiserer seg selv, tror jeg man kommer veldig nær Siegels forståelse av begrepet klassisk liberalisme.
Jeg tror Siegel vil nikke anerkjennende til bruken av mønsterspråk innenfor utøvelsen av en klassisk liberalisme, da han er en anerkjent nyurbanist. "A Pattern Language" var ved siden av Jane Jacobs "The Rise and Fall of Great American Cities" den viktigste inspirasjonskilden for de som startet opp den nyurbanistiske bevegelsen.
Nikos Salingaros har skrevet en aldeles glimrende artikkel om dette temaet, med tittelen "Peer-to-Peer Themes and Urban Priorities for the Self-organizing Society":
http://permaculturenews.org/2012/02/07/peer-to-peer-themes-and-urban-priorities-for-the-self-organizing-society/
Personlig vil jeg tro at Siegel med sin definisjon av klassisk liberalisme beveger seg vekk fra den klassiske høyre/venstre-aksen, og over i et resilient og selvorganiserende småskalasamfunn, i samsvar med Salingaros sine visjoner.
Dette blir det stikk motsatte av en neoliberalistisk økonomisk politikk, så har du rett i at noen kategoriserer klassisk liberalisme sammen med denne, står vi her ovenfor to absolutt diamentralt motsatte tolkninger av hva som menes med begrepet klassisk liberalisme. En kunnskap som kan være nyttig å ha i bakhodet.